New Fast Company: iWorry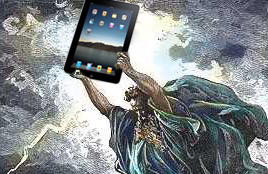 (Well, "new" in the sense of it's the most recent; it actually went up earlier this week, I just didn't get around to linking to it here. Ahem.)
"iWorry" is my foray into the iPad discussion, focusing less on the product and more on its support infrastructure:
But the iPad isn't a phone; it is a general purpose computer. It does email and Web and documents and presentations and games and all of the other kinds of things we do with our "regular" computers. Yet it will suffer under the same restrictions as the iPhone--prohibition of any application that Apple doesn't like, for whatever reason. Sometimes that means the application uses undocumented features, but startlingly often it just means "duplication of features"--the application does something that Apple's own software does, but does it differently. (This raises the uncomfortable question as to whether the Kindle app for the iPhone--which works quite nicely, actually--will run on the iPad.)
These restrictions aren't going to hurt Apple's bottom line, and admittedly will probably make for a more comfortable user experience on the device itself. But the risk -- and the source of my worry -- is that the locked-down app model moves from these kind of appliance systems to the kinds of devices that have historically been open. If the next version of the MacOS insists that you use a "MacOS App Store" to get the software you want, I'll be moving to another platform.
I brought up a similar point in a conversation with Annalee Newitz, who wrote about her own concerns about the iPad for io9.com, Why the iPad is Crap Futurism. I think her summary of my point following the quote gets it exactly right.
As futurist Jamais Cascio told io9:

This is Apple's big push of its top-down control over applications into the general-purpose computing world. The only applications that will work with the iPad are those approved by Apple, under very opaque conditions. On a phone, that's borderline acceptable, but it's not for something that is positioned to overlap with regular computers.

The iPad has all the problems of television, with none of the benefits of computers.
If I get one, it will be for the hands-on experience of seeing what kinds of uses I would have for a device that sits between a smart pocket device and a notebook computer. But I promise not to like it.