TED Talk, 2006
So, yeah. My talk from TED 2006 is now up on the TED site. (There's a higher-res downloadable MP4 version, as well.) The subject matter is ostensibly Worldchanging, but I use the platform to talk about the environmental participatory panopticon concept, too.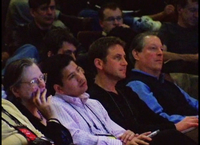 It's an interesting historical artifact. It was the first big presentation I'd ever given, and I had to give it in front of a thousand people, including some fairly high-profile folks. I was incredibly nervous, and it shows (I really needed to stop leaning on the little podium, and would somebody please give me a glass of water!). Moreover, I read the talk, rather than just speak extemporaneously, in part because the time limit was drilled into my head, but mostly because I didn't have the confidence that I'd be able to carry off the presentation without a script. I don't do that any more.
As exciting as it was to have a chance to speak at TED, I almost feel sad about it now. Not because it was a thrown-into-the-deep-end introduction to giving big talks to big audiences -- on balance, given the situation, I did okay -- but TED generally only has a given speaker show up once. From what I'm told, I give much more engaged, engaging, presentations these days, and I have a lot more interesting things to say -- it's just too bad I won't have a chance to do so on the TED stage.