Robomotors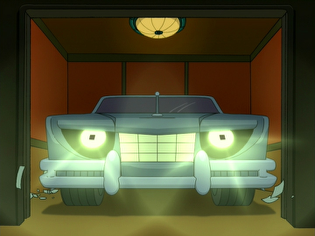 Brad Templeton wants you to stop driving.
Templeton (Chairman of the Electronic Frontiers Foundation, programmer, dot-com entrepreneur, inventor of the "dot com" domain name structure -- no kidding! -- and more) laments the tens of thousands of people killed every year in traffic accidents, the waste of urban space for parking garages and gas stations, and the various institutional roadblocks to moving to renewable energy systems. But he doesn't suggest that you go get a bicycle, you lazy bum, or spend hours on packed public transit. He wants you to get a robot.
A robot car, to be precise.
Brad Templeton's set of essays, under the collective title "Where Robot Cars (Robocars) Will Really Take Us," explains exactly why robot (autonomous-driver) cars are possible, likely, safer, cleaner, and all-around a good idea. This isn't meant as a nuanced thought experiment; Templeton lays out page after page of statistics, arguments, and data. This is a massively detailed piece. If you think of an objection, chances are he's already covered it.
(Disclosure: Brad sent me a link to an earlier version of this piece, and I sent back numerous comments.)
Templeton doesn't make any claims that this would be easy, or that it could be done soon. As a professional programmer, he's well-acquainted with both the risks arising from relying on computer controls, and the difficulty of putting autonomous systems on the road alongside human drivers. He sees these as solvable issues, though, and points to present-day examples of extremely reliable coding and the "Darpa Grand Challenge" for automated drivers as reasons why. The social (particularly the legal-liability) issues are less-easily solved.
Probably the most provocative aspect of this piece is Templeton's effort to play out some of the consequences of a shift to robotic vehicles. Not only would autonomous vehicles allow for major changes to urban design (don't need downtown parking if your car can come when you call) and major reduction of accident rates (crash-avoidance would be the first form that car automation would take, potentially eliminated tens of thousands of crashes per year, saving hundreds of millions of dollars), we'd likely see the end of mass transit (with a few long-haul exceptions).
(His data on the overall energy efficiency of mass transit, versus standard, hybrid, and ultra-light automobiles, is startling.)
I suspect that both technophile and envirophile readers will find aspects of Templeton's piece to argue with, but I suspect you'll be surprised at how strong and reasonably well-supported most of his claims are. This is the kind of piece you go into thinking that it's all crazy, and come out thinking it's all quite plausible.
Do I believe him? I think he lays out a pretty compelling scenario. I do think he still under-estimates the social, cultural, and legal inertia likely to slow the rate of acceptance of such systems. This strikes me as almost certainly a generation-change issue -- that is, the rate of acceptance will map to the maturation of kids growing up riding in semi-autonomous vehicles. Lots of resistance for longer than expected, then boom, a phase shift.
But I doubt it will happen first in the US. Singapore, maybe Scandinavia, Japan almost certainly... but I expect USians to be watching this from afar.