3D Print-to-Order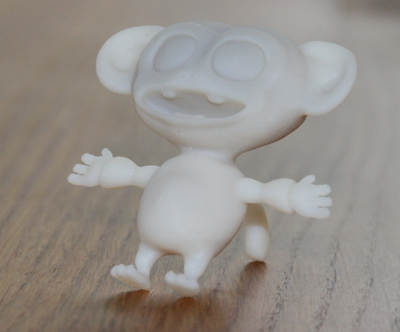 Whenever I talk about the rise of low-cost 3D fabrication, one inevitable question (after "how expensive is a printer?") is "does anyone do print-on-demand fabbing?" Real soon now, the answer will be yes. (Update: As Sven notes in the comments, print-on-demand fabbing has been around for a bit, but this one seems to be the first aimed at non-professional users.) Shapeways is a new startup service that promises to take your dusty old X3D or Collada-format 3D design files and turn them into shiny new physical objects. Mashable has more, including invites to the closed beta program.
Prices range from $2.50 to $3.44 per cubic centimeter, depending upon the chosen material (which can be solid, flexible, or transparent) and whether or not you're ordering from the EU. That's not cheap, if what you're looking for is a finished consumer item (they use the cute/creepy "monkey baby" dolls shown above as samples; they measure just a couple of inches tall, and run upwards of $60), but it's terrific if you're looking to get a one-off of a unique design. Many of the pages on the Shapeways site remain locked to non-beta visitors, but the blog is open. The blog is good even for folks not about to get stuff printed, as it provides photos of and details about the 3D printers they use, and discusses the stumbling blocks Shapeways has encountered as they get this thing rolling.
This won't be for everybody. You'll have to do the hard design work, in a 3D program that outputs their preferred formats, so I really don't expect this to be the Next Big Web 2.0 extravaganza. Make an app that will convert Second Life (or other Metaverse environment) objects into fully-qualified X3D files, and we'll talk. I'm just fascinated by how fast this market evolves.