SimSociety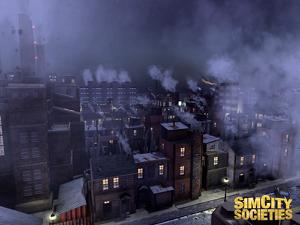 The new version of SimCity -- SimCity Societies -- is due out in about a month
, and I'm really looking forward to it.
As long-time readers may recall, I've been an advocate of the use of simulation games as a way of experimenting with plans and strategies for quite some time. SimCity is the canonical example of a game that manages to remain fun even while offering surprisingly complex system management choices. Unfortunately, the recent versions of SimCity have added to the complexity and eye candy, but are still just the same underlying game as the one introduced way back in 1989: granular, fiddly, and missing any real underlying model of how society works other than basic supply & demand.
SimCity Societies takes a different path. Rather than worry about building zones and water supplies, the new game gives the player the tools with which to build the kind of society she or he wants: agrarian, totalitarian, creative, and so forth. The challenges that one faces depend on the kind of culture that has emerged:
In addition to building up simolians (the game's currency), each city generates "social energies." These energies come in six forms: Industry, Wealth, Obedience, Knowledge, Creativity and Devotion. Different buildings give off specific energies and citizens adapt according to the city's vibe. By using this design, players can toy with various social experiments that include eco-friendly buildings, whacky Creative cities with gingerbread houses or dystopian police-states. Or players can go for it all and even try for a free-wheeling eclectic society.
As followers of the game industry might already have surmised, this version of SimCity has been crafted by an entirely new team; in fact, given that it was originally going to be called SimCity 5 but had its name changed, at this point I would happily accept that this is essentially "SimSociety," with the SimCity branding there for marketing purposes. I actually find that more appealing than just another SimCity update.
What makes this game idea especially attractive to me, however, is the new emphasis on the impact of energy choices. British Petroleum initially approached EA Games about a specialized version of SimCity that dealt with energy and global warming; rather than undertake a one-off project, EA agreed to partner up with BP to integrate these ideas into SimCity Societies. While this has elements of crass product placement -- all of the gas stations in your city are BP, for example -- it also suggest an intriguing opportunity to look at not just how energy and environment affect economic results, but how they change social behaviors, too.
The big question, then: will SimCity Societies live up to its promise?