Participatory Panopticon in Action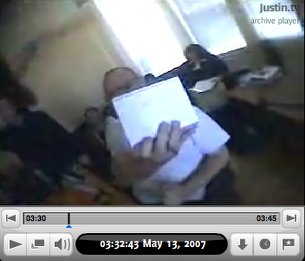 Justin of Justin.tv was the guest at today's recording of the RU Sirius podcast. A pretty genial guy, he seems reasonably conscious of the implications of his ongoing project. For those of you unfamiliar with Justin.tv, he wears a live-streaming wireless camera on his hat all day, every day, recording everything he sees. These recordings are available as archives.
You can see the archive of today's RU Sirius interview here -- scan ahead to 2:45 to see his arrival.
(Yes, I'm walking with a cane. It's not a two-bit Warren Ellis impression, I'm having an arthritis flare-up. Yes, arthritis. Yes, it sucks.)
The conversation is lively, and worth listening to. As pictured, I have the honor of being the very first person ever to try to spam the justin.tv video feed -- unsuccessfully, as the resolution on his camera is pretty lousy. Fortunately, he was nice enough to read out what I wrote: the URL for Open the Future.
I'm sure the money will start rolling in any second now.