Open Source with a Bullet: John Robb's Brave New War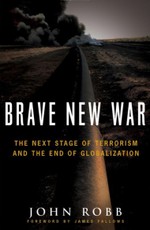 The U.S. is Microsoft. Al Qaeda is Linux.
That, at least, is the grossly-oversimplified version of John Robb's new book, Brave New War. Such a parallel has nothing to do with politics, but with position. The United States, and other centralized, conventionally powerful global actors, fill a role in the geopolitical ecosystem akin to Microsoft: big and slow to respond; wealthy and wasteful; hierarchical and ossified. Al Qaeda, and other distributed, guerrilla insurgency and terrorist movements, fill a geopolitical role more akin to Linux: decentralized and nimble; open to new entrants; innovative out of necessity. It's for good reason that Robb refers to the conflicts now underway as "open source warfare," and the distributed participants, "global guerrillas."
I'll leave it to others to address the military implications of Robb's argument; it's enough to say that I found his ideas compelling (this should come as no surprise, given how often I link to his site when I write about global politics). I'd like to focus, instead, on what he calls out as the proper response those opposed to the global guerrillas should adopt.
Robb makes it clear that the tactics the United States (and, to a lesser extent, Europe and other post-industrial nations) now employs are bad, bad ideas. "Knee-jerk police states" and "preemptive war" fall into a category Robb borrows from security specialist Bruce Schneier: "brittle security." The big problem with brittle security is that, when it fails, it fails catastrophically; moreover, by employing these tactics, the U.S. (etc.) undermines the very moral suasion and memetic influence that are among the most important tools to fight empowered extremism.
He proposes instead the adoption of "dynamic decentralized resilience:"
It is simply the ability to dynamically mitigate and dampen system shocks. Specifically, it is those things we (and our state) can do to change the configuration of our networks to ensure that intentional or naturally occurring attacks on our society don't do much damage or spiral out of control.
This is a welcome argument. The concept of resilience is useful as a response to a spectrum of threats, as it emphasizes not the specific counters to a particular challenge, but the broader ability of a society or network to survive and thrive even when faced with major threats. Robb uses it here as a way of dealing with open source warfare; a few months ago, I used it as a way of dealing with environmental disruption:
"Resiliency," conversely, admits that change is inevitable and in many cases out of our hands, so the environment -- and our relationship with it -- needs to be able to withstand unexpected shocks. Greed, accident or malice may have harmful results, but [...] such results can be absorbed without threat to the overall health of the planet's ecosystem. If we talk about "environmental resiliency," then, we mean a goal of supporting the planet's ability to withstand and regenerate in the event of local or even widespread disruption.
Robb and I are not alone in the use of resilience as a fundamental part of surviving the 21st century. The Resilience Alliance greatly expands on the notion of environmental resilience, and links it to concepts such as adaptive cycles and Panarchy. (I'd love to see how Robb would make use of the Panarchy argument in his own work -- there are definite connections.)
This isn't simply a coincidental use of the same word. The overlaps between social resilience and ecological resilience are quite profound. A small example of this can be seen when Robb leads us through reconfiguring an existing system to make it more resilient. He argues that the power grid could be made much more resilient -- that is, much better able to absorb and mitigate threats -- by becoming much more decentralized, with individual buildings becoming power generators as well as power consumers. To be clear, this isn't a call for energy isolationism -- he doesn't want to go "off-grid." It's a call for a much more deeply-networked grid. And it happens to be an argument very familiar to those of us looking at ways to deal with environmental crises, not simply because it supports greater use of renewable energy, but because of its resiliency under stress.
Looking more broadly, Robb lists three rules for successful "platforms," or sets of services, operating under his resiliency model: transparency (so all participants can see and understand what's happening); two-way (so all participants can act as both providers and consumers of the services); and openness (so the number and kind of participants isn't artificially limited). Again, these rules should sound very familiar to readers of (among other sites) Open the Future and WorldChanging.
I make a point of highlighting these similarities in order to demonstrate that the concepts that Robb discusses as a way of dealing with a particular kind of challenge actually have far broader applicability. An open, transparent, distributed and resilient system is precisely what's needed to survive successfully threats from:
Natural disasters, such as tsunamis, earthquakes, and pandemic disease.

Environmental collapse, especially (but not solely) global warming.

Emerging transformative technologies, such as molecular manufacturing, cheap biotechnology and artificial general intelligence.

Open source warfare.

Even (should it happen) the Singularity.

John Robb addresses some of these when referring to "naturally occurring attacks" or the value of sustainability as a way of supporting resilience. Because he focuses on the military/security manifestations, however, he doesn't make a strong connection to the broader utility of the concept. I hope that he starts to look more closely at these other arenas as sources of innovation and even alliance.

The one element that Brave New War lacked, and would have been well-received, is some exploration of what kinds of counter-global guerrilla strategies might be in the offing. He's clear that the current approach is disastrous, and the resilience argument does a good job of showing how post-industrial nations can better survive the threat of global guerrillas without surrendering their values. But I found myself wondering what kinds of tactics and technologies will emerge as a way of meeting the open source warfare threat head-on. Is it something as obvious as re-tooling conventional militaries to adopt more "open source" style techniques? Is it something as surprising as a shift in focus towards what might be thought of as an "open source peace corps"? Maybe it will require a major technological leap, where we find that the best counter to open source guerrillas is ultra-high-tech swarming bots, or nano-weapons, or something even more startling.

The question I have for John Robb is, then, if we build the open future, how do we defend it?