WorldChanging Book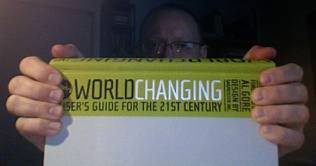 Well, my contributor's copy of the WorldChanging book -- WorldChanging: A User's Guide for the 21st Century
-- finally arrived today (albeit with mangled slipcover). I can't really review the book, of course; I'm way too close to the material (both as a direct contributor, and author of a significant portion of the WC posts that influenced book content). I will say that, if you like the WorldChanging website (especially in its current iteration), you'll like the book, no question. It's not as aggressively future-focused as I saw the WC site in my time, but that's probably appropriate: the goal is to show that (nearly) all of the solutions we need are available now, not in some future scenario we just decide to wait for.
I find it hard to express the complex jumble of emotions I feel when I look through the 600+ pages of the tome, though. There's some pride, to be sure, along with sad nostalgia for a part of my life now ended, all mixed with what I can best describe as disconnectedness: much of the book comes from my words, yet they aren't, quite. I don't think any of my articles -- whether new pieces I submitted during the book's construction, or pieces derived from posts at the WorldChanging.com website -- survived the editing process intact. Sometimes the new versions sound like my writing, and sometimes they sound utterly alien (with recognizable phrasing remaining as memetic flotsam and jetsam); in a few cases, I even spotted familiar phrasing showing up under somebody else's byline (an understandable result of the hurried and dynamic editing process).
I suppose this dislocation comes from encountering a new version of something I poured my life into for over three years. It's more than just the unfamiliar form, though. Considering how much of myself I put into WorldChanging, holding this book in my hands is like encountering an alternate-universe version of myself.