Mr. Cascio Goes To Washington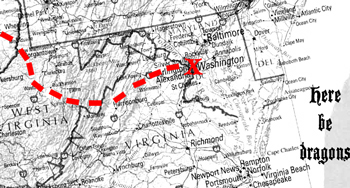 I will be heading to Washington, DC, in a couple of weeks, ostensibly to take part in a short workshop for the Institute for the Future. I'll be coming in a few days early, however, in order to hit a few of the sights (and to spend some time with a good friend). I'll be arriving late on Saturday, December 2nd, and will have free time available for most of Sunday and Monday.
So: suggestions? There are obvious places to try to see, albeit briefly, but anything special or transitory I should make a point of getting to? Any "be sure to get a coffee/hamachi nigiri/blintz at..." ideas? Or "be sure to do [X] in front of the [Y], and get a picture!"
It will be my first time to DC, but I recognize that two partial days is nowhere near enough time to see even a fraction of the features. That, plus the fact that it will be early December (and I'm a born-in-Southern-California boy), may mean a "just the highlights" visit, but I'd love to see something that hasn't already been shown in a million movies.