Joining the Late 1990s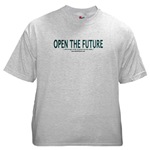 Okay, so I'm the last kid on the block to do this, and it has long been considered kind of silly... but I went ahead and set up Open the Future shirts and mugs (and a couple of other items) over at CafePress.
At the very least, I can get a new coffee mug to replace my sadly broken BBC cup.
And consider it a social experiment: I know I get a handful of readers -- is anybody interested in swag?
Or: is there a better place to create these kinds of items?
Edit: the very first comment reminds me to say: I've done a bare minimum ($1) zero mark-up on the items, so this is *not* a money-making venture on my part.