Melancholia, the Game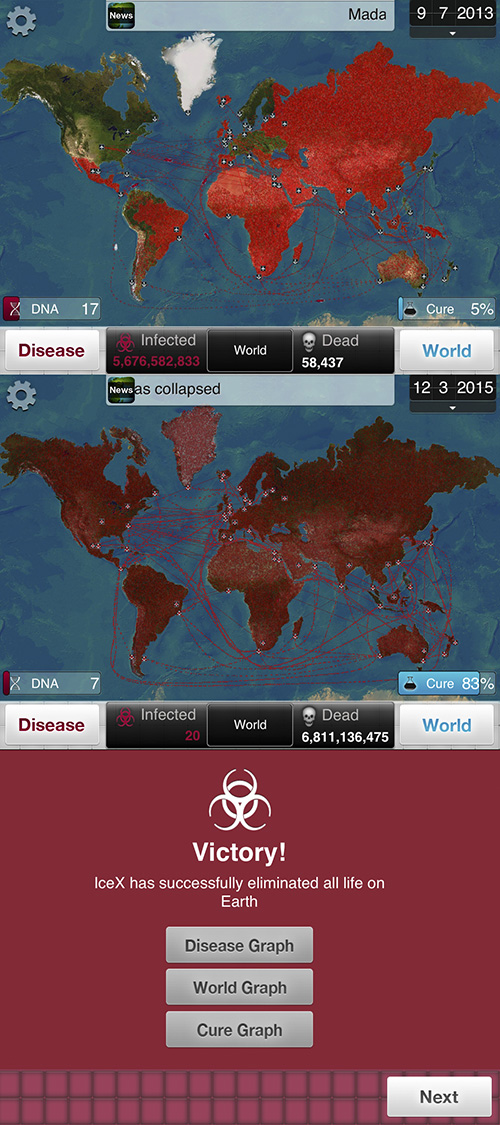 Plague, Inc., by Ndemic Creations, is an iDevice game* with a simple story: you're a plague, and your goal is to wipe out the human race. As you spread, you accumulate "DNA" points allowing you to mutate, taking on traits allowing you to better adapt to the various ways those pesky humans fight back. Depending upon the stage of the game, you could be anything from a humble bacteria or virus to a nano-device or bio-weapon.
While neither accurate nor complete enough to truly be considered a "simulation," Plague, Inc. touches enough of the key points to cause more than a little discomfort. Vectors include various animals, blood, air and water, and the symptom options give you a hypochondriac's cornucopia of potential ways to get sick and die. Shipping and air travel routes are animated, giving you early warnings when an infected vessel is on its way. Viable strategies vary based on the type of pathogen; with some, remaining stealthy (fast to spread, but slow to cause harm) is best, while others call for a more aggressive approach. The only way to actually win a level is to cause complete extinction, although from a narrative perspective wiping out all but a few hundred thousand people in New Zealand may seem close enough.
If all of this sounds more than a bit morbid, it is. It's a kind of dark humor that reminds me most of the classic table-top game "Nuclear War" (where scoring is done in megadeaths and mutual destruction isn't just assured, it's inevitable). Nuclear War was an ideal artifact of the Cold War, a game for those of us who grew up doing "duck and cover" drills in elementary school. You knew that atomic annihilation was just a matter of time; may as well have fun with it. Plague, Inc. offers a similar kind of amusement: we know that a deadly pandemic is an ever-present possibility, so we may as well laugh in the face of death. That said, it isn't quite as over-the-top as Nuclear War -- the humor is present, especially in the news headline ticker running across the top of the screen, but it never pushes too far into parody. You'll laugh, but it will be a nervous laughter.
Victory offers an exquisite combination of pleasure and regret. I asked on Twitter/Facebook for suggestions for a name for the feeling of pleasure and regret one has for destroying the world. The best answer was "Shivafreude" (thanks, Ariana!).
In other words:
Yay! I've wiped out humanity!
Uh-oh. I've wiped out humanity.
You probably shouldn't get this game if you're prone to nightmares, or only play iDevice games while flying. A world map with biohazard symbols and a running death tally may not get you the kind of attention from flight personnel you want.
* Sadly, there does not appear to be an Android device version; one seemingly similar game in the Google Play store has received mostly negative reviews, some noting how poorly it compares to Plague, Inc.