Hacking the Earth, in London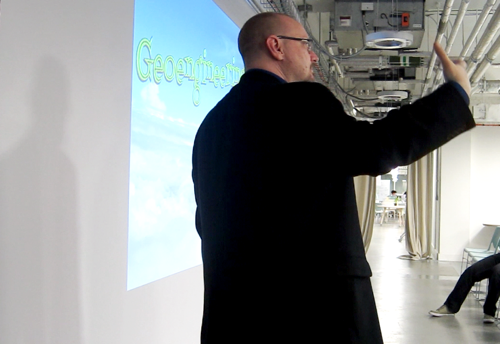 On Thursday, November 10, I gave a talk on geoengineering for the "Truth and Beauty" series at the Hub/Westminster. The host of the event, Vinay Gupta (a name you might recall from Worldchanging), video'd the talk and subsequent Q&A, and gave me a copy of the digital file. After a bit of iMovie fiddling, I managed to work the file down to under 500MB, and stuck it up on Vimeo. You can watch it there, or below:
HACKING THE EARTH at "Truth & Beauty" London, Nov 2011 from Jamais Cascio on Vimeo.
Some notes about the talk: I drop a few f-bombs, scattered throughout -- if you're of delicate sensibilities (or my mother), theres's your fair warning; for a variety of technical reasons (both production and post-production), the video image quality isn't what it could be -- fortunately, the sound quality is quite good, especially given that it uses the on-camera mic; and, as with most talks I give, this one is entirely extemporaneous, so expect a few mistakes -- I mention (and correct) one on the video, but there are undoubtedly more. If you catch something that's wrong, however, please do let me know.