Carbon Footprint T-Shirts (& Stuff)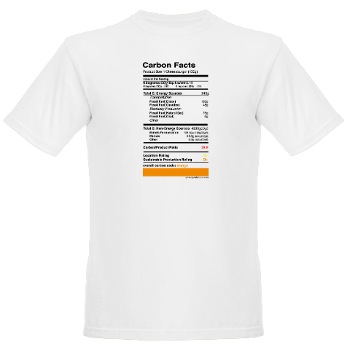 Warren Ellis' new "t-shirt a week" project, using Cafe Press, reminded me that, waaaay back in the early days of Open the Future, I tried out a Cafe Press shop just to get a couple of items of OtF stuff for myself. That stuff is all gone -- it used the logo from two iterations ago -- but the shop remained. It only needed new content.
By far the most popular item I've ever done here is the Carbon Footprint of a Cheeseburger, and I still get requests to use the graphic that I made to accompany the piece -- a mockup of a "carbon facts" chart mirroring the common "nutrition facts" found on nearly every food item in the US. As a result, I had little hesitation about which image would go on a new Open the Future shirt.
At this point, the Open the Future storefront has the Carbon Footprint image on organic t-shirts (both "male" fit and "female" fit), as well as on a tote bag (perfect for shopping at the local organic food market), a large coffee mug, and -- I couldn't resist -- on a barbecue apron.
If anyone decides to pick one of these up, please send along a picture of yourself wearing the shirt/apron (or holding the bag/mug).