Scaffolding, Redux
Mike Flynn of Opportunity Green attended the Art Center College summit, and took these shots of the three futures presented in my talk. Thanks, Mike!
Also: very, very cool to discover the Mobility Vision Integration Process, a nifty way of quickly generating scenaric futures. The focus here is on mobility, but the process -- which Art Center College has chosen not to patent or otherwise restrict -- can be applied much more broadly. While the basic card version offers a fun way of playing scenario design (I so want to come up with the Collectible Card Game rules for it!), the site also offers a Flash version that does a decent job of replicating the experience.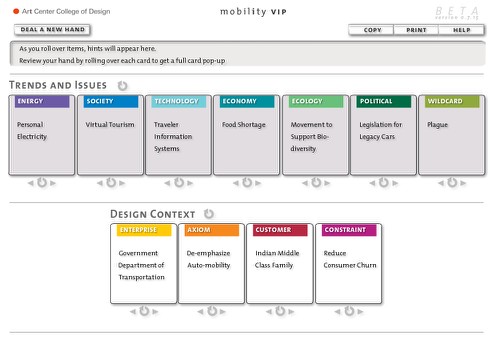 What's particularly nice about the process is that it provides not just scenario bullet points, but the "design context" -- that is, the various constraints and demands that go into shaping the strategies operating in this scenario.