Superstruct Underway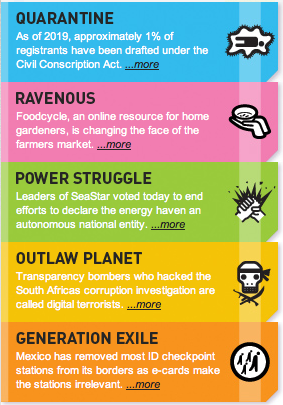 The Superstruct game is now up and running. In less than 24 hours, there are nearly a thousand people signed up, and nearly a hundred proposed "superstructures."
Here's the official announcement:
The Superstruct game is live, and our survival clock is ticking.

Together, we have just six short weeks to prevent the collapse of the human species in the year 2042.

We can survive the Superthreats. If we take it one mission at a time.

YOUR first mission: Register at http://superstructgame.org/UserRegistration. Complete your personal Survival Profile, and invent your future self. Who will YOU be in 2019?

When you are ready for more missions, read How to Play or watch the How to Play video.

If you register by 11:59 PM Pacific Time on October 7, you will earn a special honor: a gold diamond for your Survival Profile that marks you as a Fast Response player, one of the founding members of the Superstruct community. So join us now and lets start inventing the future!

The Superstruct Creators
My role on the Superstruct site is as the voice of GEAS, the organization behind the extinction report. My first piece just went up this morning, and reflects the changing perceptions of risk:
The Heisenberg Uncertainty Principle -- a basic concept from quantum physics -- tells us, in effect, that the act of measuring the location and motion of a particle changes those very characteristics.

The same is true with the future.

The very act of publishing the GEAS report changed the future. We tried to account for that, a bit at least, in some of our later simulation runs, but the funny thing was that some of the models had the report bringing about a functional extinction event much sooner than 2042, and some had the report pushing out the survival horizon considerably. In the end, we realized that we needed to learn more about how people would actually respond before we could understand what we ourselves had done.
It's going to be fascinating to watch this thing evolve.