"BoingBoing Censored" - The Game (!?!)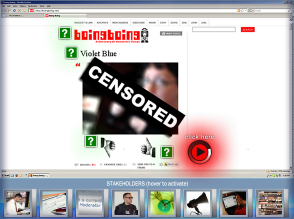 Good googly-moogly. Just as it seemed to be settling down, the Internet drama about Xeni at BoingBoing "unpublishing" (a seemingly Orwellian term that's actually a MovableType command) posts talking about Violet Blue has taken a surreal turn. A site called "Impact Games" has offered up a project called "Play the News," and the latest news game subject is the Blue-BoingBoing-Bust-Up.
[Required disclaimers: I'm friends with everyone involved, and wish to remain so. BoingBoing has a right to do what it wants with its material, but in my opinion this was handled very poorly. Although the site editors argue persuasively that they each have their own interests, Cory's passions about copyright and transparency have come to define the site, and the manner in which the articles were unpublished and -- more importantly -- the removal of comments and questions when the whole thing became known ran counter to that BoingBoing image. However, I don't think any of this was done with malice, and it's clear that People Have Learned A Lesson. Moving on.]
"BoingBoing Censored" is actually pretty minimal -- frankly, it barely qualifies as a game. I find it interesting not because of what it is, but because of what it represents: the relatively fast turnaround of narrative into interaction. This has been, for less than a week, a story that a particular set of online communities followed; suddenly, it's something that people could play, too.
If it's done well, a news game can provide useful insights into the choices and dilemmas involved in the stories. This game is not done well, particularly, but I could easily imagine how a subsequent version might be more compelling. If the site and the games it produces evolve into something more complex, this could be quite big.
We need to remember, though, that games are not neutral. Take language -- by calling this game "BoingBoing Censored," Play the News takes a position on the story. Even a change as bland as (for example) "BoingBoing Edits" has a very different feel. And what's not there can be as important as the elements that are. What choices are you not given? What plays aren't available?
Games aren't objective. They're political, whether or not they're obviously about politics.
I've observed before that games are moving into new narrative and social spaces, and this simply continues that trend. "BoingBoing Censored" is worth noting simply for the speed with which it appeared. But its embrace of a seemingly minor personal and sub-cultural story should make us pay even more attention: what might we be doing with our own online lives that might end up as somebody's news game?