The Participatory Decepticon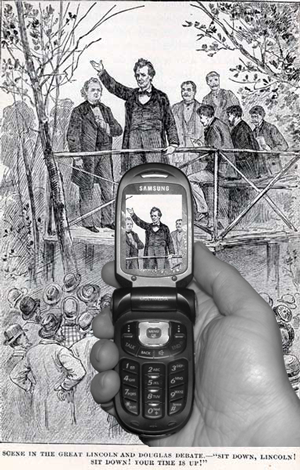 What happens when not only have the tools of documenting the world become democratized, so too have the tools for manipulating our interpretations of reality?
The rise of technologies of ubiquitous personal observation -- what I've termed the "participatory panopticon" -- has already begun to transform how we relate to each other socially and politically. The acceleration of mobile media creation capabilities maps to a growing desire by individuals of all ages and backgrounds to have greater control over their personal media technologies. These tools move quickly from dubious to ubiquitous, and streaming video from cameraphones offers the best example.
I've argued before that this kind of live streaming video from phones will likely be abundant and potentially quite important during the 2008 general election campaign in the US. We saw in 2004 how "video vigilantes" could demonstrate that the NY police had edited their arrest videos, resulting in a near-90% dismissal rate for protestor arrests during the Republican national convention. In 2008, anyone with a cheap Internet-enabled cameraphone will be able to serve the same "watching the watchmen" function.
To get a sense of the potential scale of this phenomenon, take a look at these fantastic photos by Scout Tufankjian, who has followed the Obama campaign since well before the Iowa caucuses. Ignore for a moment the political context, and look at the crowds. In nearly every shot involving masses of people, you'll see cameraphones held up to record the moment. Most are likely to have been used for still photos, but a significant -- and growing -- percentage will have been used to record video (here's an example of what they get).
We are flush with video documentation of our political world, and have become increasingly comfortable with checking out YouTube or Google Video links for political content.
But just as the tools for recording the world have come down in price (sometimes in a dramatic fashion), so too have the tools for editing and reshaping video recordings. Both the MacOS and Windows come with decent to good free applications for movie editing, and the commercial packages offer even more power. It's entirely possible for a professional video productions to be crafted on the same kinds of hardware you might use for playing games or blogging.
This progression of technological capacities coincides with the increasing polarization and visibility of personal political discourse. People rant daly on blogs, produce fist-pounding videocasts, record angry podcasts. Political videos become viral hits, sometimes spawning parodies.
The initial result of the combination of easy video documentation and political polarization can be summed up in two words: "Macaca Moment."
But add easy video manipulation to the mix, and another possibility emerges: the crafting of political videos documenting candidate insults and errors that never happened. Not in a clumsy, easily-detected form, but as a sufficiently-believable web video. There are more than enough audio recordings out there of most major political candidates to allow political pranksters/"dirty tricksters" to make that candidate say just about anything; the cameraphone and flash video media offer insufficient clarity to be able to see if a candidate's mouth is truly saying the words he or she seems to be saying.
Such a deception wouldn't stand for very long, but would almost certainly last long enough set off a wave of furious blog posts and mainstream media attention. Initially, claims that the video was fake would be characterized as "campaign denials," and only after a bit of forensics (and people coming forward with alternate videos of the same events, but with different words) would it be clear that the video was a fake. Call it three days of chaos.
Then it happens again. And again. Against other candidates. The returns would diminish rather quickly, but the percentage of Americans who believe firmly that Barack Obama is a Muslim suggests that the effects of faked videos would linger. The right "wrong" message, unleashed at the right time, could shift an election.
Moreover, a proliferation of faked political videos would undermine the legitimacy of the YouTube/web video medium for political purposes. Any video showing a candidate -- or, just as easily, police officers, or neighbors, or musician, or anyone else -- saying or doing something offensive could be dismissed as "just another Internet video hoax."
Is there a way to counter this kind of participatory deception? The answer that comes initially to mind is labor-intensive, but very amenable to a bottom-up approach. Constant monitoring of new additions to video sites, looking for claims that a video shows a candidate (or candidate's spouse) doing something untoward. If the campaign can jump on and discredit the video before it takes hold, it might be able to head off the three days of chaos.
I suspect that, once we see a faked video score a hit on a candidate, that we'll see myriad counter-attacks and follow-ups. Some will be so ridiculous as to be easily dismissed; others will be so close to reality that they'll be hard to refute. Some will even be real mistakes or insults, but ignored by the press as yet another hoax.
But don't worry: things will be even crazier for the 2012 election.
("Participatory Decepticon" phrase suggested by my friend and colleague Matt Chwierut)