Who Decides?
Who gets to determine the "right" climate for the Earth?
We may broadly agree that the current climate -- warming, with chances of apocalypse -- is decidedly not the right one. After abundant political posturing and nationalist histrionics, we'll eventually get to the heavy lifting involved in dramatically reducing our carbon footprints, slowing and stopping the warming. Unless the mitigation efforts begin in earnest immediately, we face the unhappy prospect of needing to engage in some manner of geoengineering to forestall global disaster.
But as I've argued before, the politics of geoengineering will be at least as tricky as the science.
It's important to recognize that, because the climate is a complex system, even seemingly simple adjustments can have surprising (and even counter-intuitive) results, results that can and will vary significantly around the world. And if those results aren't as good for some regions as they are for others, you can be certain that -- in a world already riven by environmental and resource collapses -- we'll see arguments and potentially even conflict over the matter.
An article to be published in the Journal of Geophysical Research underscores this point. In "Regional Climate Responses to Geoengineering with Tropical and Arctic SO2 Injections" (PDF), authors Alan Robock, Luke Oman, and Georgiy L. Stenchikov examine the potential repercussions of the injection of megatons of sulfur dioxide particles into the lower stratosphere as a way of slowing global warming. (Important emphasis: not as a solution to global warming, but as a way of slowing its progress so that actual carbon-reduction solutions can be implemented.) In their study, Robock, et. al., simulate different scenarios of sulfur dioxide injection using NASA-Goddard Institute for Space Studies' ModelE atmosphere-ocean general circulation model, currently one of the most comprehensive climate simulations available.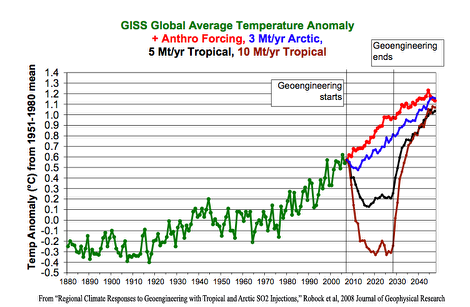 In their work, they come up with a few particularly interesting results: geoengineering without simultaneous mitigation efforts would be disastrous when (for whatever reason) geoengineering efforts end -- temperatures would shoot up rapidly (see above); most sulfate injection proposals would end up reducing monsoonal rainfall patterns across southern Asia and central Africa, potentially triggering famines; and -- perhaps most surprisingly -- sulfate injection geoengineering would lead to summer temperatures in the Indian sub-continent (and in small parts of north-central Africa) at least as warm as if not warmer than "business as usual" global warming scenarios.
Let me repeat that last one: geoengineering by injecting sulfate particles into the lower stratosphere -- currently one of the leading proposals -- would effectively cool the Earth, except for summer in India, which would be as warm as or warmer than doing nothing at all.
(Important caveat: Robock and his team use a slow-change "business as usual" scenario -- A1B, for you IPCC fans out there (PDF) -- for the underlying greenhouse gas levels. If we manage to use a geoengineering period correctly to get GHG reductions in place, this level of warming may be less.)
Given that the most likely scenario calling for geoengineering would be one where disasters have already started to happen, and we realize that it's too late for new urban models, universal vegetarianism, and ubiquitous wind and solar to prevent global catastrophes. That is, it's a scenario where there would be significant pressure from much of the world to give this a try. As for India... well, that's where politics starts pounding on the door.
It's not just the science that needs to be advanced before we start fiddling with geophysical systems -- we really need to work out the politics first, too.