Scivestor Conference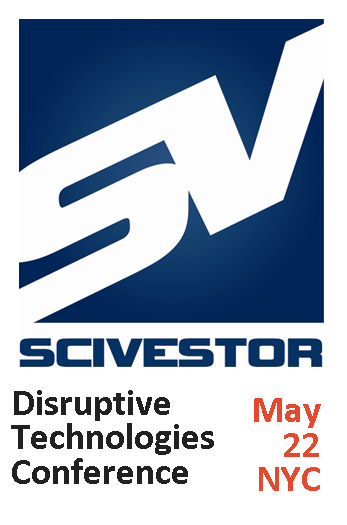 UPDATE: Sadly, this event has been canceled.

Here's an interesting data point about the changing perception of "the future:" a transformative technologies conference aimed not at fellow trans-techies, but at investors.
Scivestor's Disruptive Technologies Conference - NYC 2008, happening on May 22nd, will host a variety of speakers (including me and the Director of the Center for Responsible Nanotechnology, Mike Treder) talking about the potential for large-scale economic and social disruption happening due to medium-term technological change.
I have to admit, this is an odd environment for me, as I'm more accustomed to speaking to people looking at managing impacts, not to people looking at profiting from them. But since the investment community is arguably a key catalyst for technological change, it's important to speak to them, to help them make wiser choices. For people out there concerned by this, don't worry: I won't change my message. My goal remains supporting the ethical, inclusive, open development of transformative technologies, and that's what I'll be talking about to this -- hopefully, receptive -- audience.
Here's the event info:
From the event brochure: "By some estimates the very nature of mankind will change radically in the coming years transformed by the accelerating pace of technology change. These empowering technologies – Artificial Intelligence, Nanotechnology, Robotics, Virtual Reality, and Human Enhancement – will soon become major disruptors to today's profitable business models.

The SciVestor Disruptive Technologies Conference represents the single most relevant gathering of thought leaders, businesses and investors focused on monetizing this opportunity. The intensive day-long event will offer tangible insight for both the investment and business communities."

Jamais Cascio will be present and will join other technology and business futurists like Adam Bly, Dr. Eric Braverman, Mike Treder and Jonas Lamis.

You can download the event brochure here (pdf).

Registration information is available here:
http://www.scivestor.com/events/scivestor-disruptive-technologies-conference

Who Should Attend: Investment Managers, Business Executives and Strategists, Technology Futurists, Venture Capitalists and Individual Investors who are focused on staying ahead of the coming waves of transformative technologies. Seating is limited to 125 attendees.

When: Thursday, May 22, 2008
Where: New York Information Technology Center - Wall Street
55 Broad Street
New York City
Cost: $495 per person until March 15th, 2008. Then $595 per person.
Do let me know if you plan to attend.