Global Guerilla Swag
As-Sahab is the media wing of Al Qaeda, the "network" used by all the current Al Qaeda videos put onto the web; as with nearly all modern video producers, their programs include a little "bug" logo in the lower right corner of the screen identifying the network. Wired's Danger Room blog noted that this logo isn't limited to the video itself -- As-Sahab also has logo coffee cups.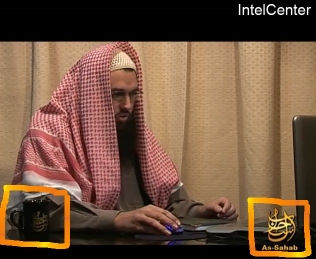 (Picture from IntelCenter)
This is worth noting both as it suggests an increasingly sophisticated institution -- and the inability of even an avowedly anti-Western organization to avoid the trappings of Western media culture.