What the Heck?
Taking a quick scan through my logs, I noticed something odd. Like many blogs, much of my traffic comes from people searching for particular terms. Normally, the searches that lead OtF are for topics I've written about (geoengineering, metaverse, etc.) or specifically about OtF/me. But over the past couple of months, one phrase in particular has leapt up the charts:
"End of the world" has moved from an occasional search subject early in the year to one of my top search terms.
It's even more dramatic when compared to other searches for potentially-related concepts: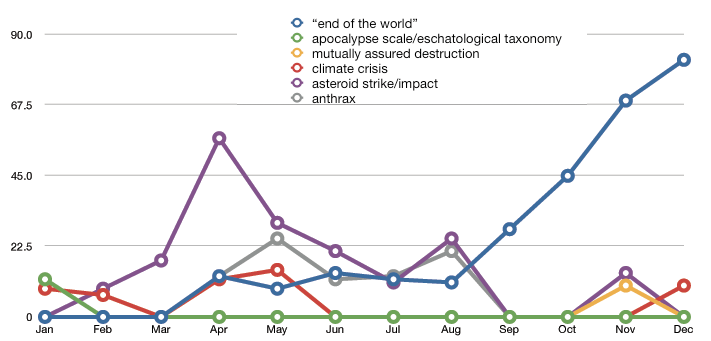 As you can see, an initial bit of attention about last year's Eschatological Taxonomy died out quickly, and searches for subjects like being hit by asteroids and climate disaster vary without any real pattern. (Update: also note that, while my overall traffic has increased slightly over the year, the increase for "end of the world" is significantly disproportionate.)
This is a distant, early warning of something. I don't know what, but it probably isn't good.