The Metaverse: Your Life, Live and in 3D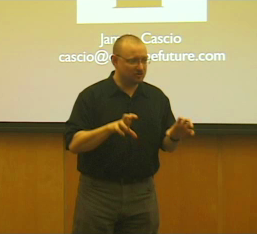 My talk at the Stanford Metaverse Meetup on November 27 is now available as a video.
Downloadable Quicktime (warning: big, big file)
The whole thing runs for nearly 90 minutes, including both the talk and the Q&A (there's also a 5 minute intro and another 5 minute commentary towards the end).
One thing that really leaps out at me while watching this: I simply can't stand still. I must have driven the cameraman crazy with my wandering back and forth, and I'd probably be absolutely unable to speak if you tied my hands to my sides. And don't get me started on the weird "jazz hands" moves I apparently can't stop myself from doing.
On the plus side, the sound quality's really good.