Talking About the Metaverse & the Singularity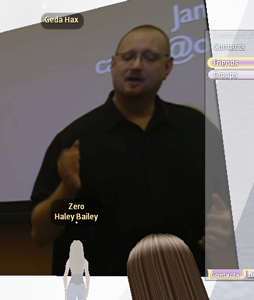 Just a few updates for those of you who like to hear these things:
My talk at the Metaverse Meetup the other night went splendidly, and the video should be available real soon now. For those of you who can't wait, the folks at Ugo Trade did a terrific job of capturing the content and the spirit of my talk -- not a transcription, but a thoughtful depiction.
The picture of me giving the talk was taken in Second Life by Lisa Rein. Thanks, Lisa!
The entire recording of my interview for Spark! on CBC radio is now available for downloading & listening. It actually holds together pretty well, and nicely covers (in a conversational way, not a lecture) many of what I think are the key issues surrounding the rise of the metaverse concept.
This past weekend's edition of, um, Weekend Edition included a story about the Singularity Summit (you remember, back in September... I guess this worked best as a filler story). Many of the notables show up in interview snippets, and I make a guest appearance, too. The odd thing is that it was at least a 30 minute conversation that ended up being cut down to two sentences. Welcome to radio.