Interview for Changesurfer Radio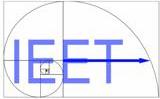 Trinity College Professor of Healthy Policy James Hughes, founder of the Institute for Ethics and Emerging Technologies (of which I am a Fellow), runs a weekly Internet radio show called "Changesurfer Radio," covering a variety of topics related to building a more democratic (small-d) future. On March 31, Dr. Hughes interviewed me for his show; the result is now up on the Changesurfer website.
"Technogaian Approaches to the Climate Crisis"
The connection apparently had a bit of noise at the outset, and it looks like James just zapped that part of the conversation -- which is why I don't say "hi" at the beginning, and his intro seems to go on awfully long. It was a fun conversation, though, and I look forward to the next time.