Obsolescent Heresies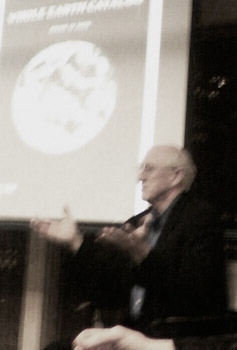 I like Stewart Brand, and he and I seem to get along pretty well. I first met him at GBN a decade ago, and I run into him fairly often at a variety of SF-area futures-oriented events.
But I found myself grumpy and frustrated after reading "An Early Environmentalist, Embracing New 'Heresies'" in Sunday's New York Times, a profile of Stewart and what he calls his "environmental heresies."
Stewart Brand has become a heretic to environmentalism, a movement he helped found, but he doesn't plan to be isolated for long. He expects that environmentalists will soon share his affection for nuclear power. They'll lose their fear of population growth and start appreciating sprawling megacities. They'll stop worrying about "frankenfoods" and embrace genetic engineering.
Brand seems to retain an image of environmentalism that may have been appropriate in the 1970s, but has diminishing credibility today: the anti-technology, back-to-nature hippie. Today's environmental movement is urban, techie, and far less likely to refer to any assertion as "heresy" (although, in the case of the handful of people who still try to deny the existence of global warming, we're happy to use the term "stupidity"). Stewart Brand is nailing his environmental heresies on the door of a church that was long ago abandoned... or, at the very least, taken over by Unitarians.
This isn't to say that the Bright Green types have fully embraced Stewart's views. There's little support for aggressive nuclear power production among the new environmentalists, and the various positions concerning biotech are complex, to say the least. There's little disagreement with his love of cities, but in this case, Brand is almost a latecomer. Ultimately, the positions that Stewart stakes out appear more to be arguments against his own past beliefs than against the claims of modern eco-advocates.
David Roberts, over at Gristmill, dissects the nuclear argument exceedingly well, and rather than reiterate what he wrote, I'll just point you to it. The short version, in my phrasing: the Bright Green reluctance about nuclear power has far more to do with it being centralized infrastructure and dated technology than with any fear or loathing of atoms. The environmental situation in which we find ourselves demands a fast-learning, fast-iterating, distributed and collaborative technological capacity, not a system that bleeds out investment dollars and leaves us stuck with technologies already on the verge of obsolescence.
If we're looking for resilience, flexibility and innovation, the nuclear industry is not a good place to start.
With regards to biotechnology, resilience, flexibility and innovation are definitely possible, at least in the years to come. Brand argues that genetic engineering has the potential to be a major tool for dealing with global warming's effects, and he's not the only one making claims of the sort. There's no consensus Bright Green position on environmental biotech, but there are plenty of voices calling for the responsible use of biotech (and nanotech) as a way of combatting climate and ecosystem disruption; moreover, most people arguing for holding off on bioengineering do so out of concern that we still have more to learn before we can undertake such solutions responsibly, not out of a flat opposition to the technology.
Stewart asks, "where are the green biotech hackers?" Rob Carlson -- one of the original open-source bio thinkers, now a leading expert in synthetic biology -- has an answer: they're here, but they're still working under the radar.
We're coming, Stewart. It's just that we're still on the slow part of the curves. [...] At the moment, synthesis of a long gene takes about four weeks at a commercial DNA foundry, with a bacterial genome still requiring many months at best, though the longest reported contiguous synthesis job to date is still less than 50 kilobases. And at a buck a base, hacking any kind of interesting new circuit is still expensive. [...] So, Mr. Brand, it will be a few years before green hackers, at least those who aren't support by Vinod Khosla or Kleiner Perkins, really start to have an impact.
Green biotech hacking is still in the punch-card era, and as Stewart himself could tell you, computer hacker culture really didn't take off until you got past punch-cards into time-sharing, where the cost in time and money was low enough that mistakes were something to learn from, not dread.
As for cities, I'm not sure I could find many modern enviros still clinging to the notion that, on the whole, rural life is intrinsically better than urban life. There are plenty of individual examples of terrific rural homes and awful urban homes, of course, but in the aggregate, there's no question that communities in dense, urban settings have a smaller footprint than communities of the same size in suburban and rural settings. And the notion that population size is still at the top of the environmental hit list is seriously out of date; all signs point to a global population peak of below 10 billion, and possibly no more than 8 billion -- of concern to the extent that more people means more consumption, but by no means a panic-inducing Malthusian threat.
The conventional meaning of "heretic" is one who goes against dogma, and the positions that Stewart takes here just don't meet that requirement. There's no doubt that it would be possible to find self-described environmentalists who fit the stereotype that Stewart is responding to, but one of the hallmarks of the modern environmental movement -- and the reason why the "heresy" model is arguably obsolete -- is that, when it comes to solutions, nothing is a priori off the table. All solution options can be considered, but they must be able to stand up to competing ideas. Even if some of us believe that some of the solutions he advocates don't stand up to the competition, we aren't going to try to claim that Stewart Brand somehow isn't an environmentalist. As long as he recognizes that the Earth's geophysical systems are under extraordinary duress, and that business-as-usual is driving us headlong into disaster, he's one of us -- even if the ways we want to avoid that disaster vary.