The Cheeseburger Syndrome: Carbon Transparency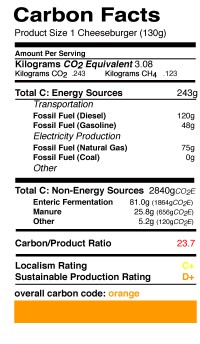 The "Footprint of a Cheeseburger" post continues to reverberate around the web, and not just in the so-called "Green Blogosphere." I have an interview about the story coming up that might make it to national radio. The Cheeseburger Footprint popped up on business sites, on hamburger and foodie sites -- heck, it even got linked to by a well-known slavering right-wing website Which Shall Not Be Named or Linked (I've read too much Lovecraft and Stross to take that risk), with readers there wondering if I was serious.
For the record: yes, I was serious.
That doesn't mean that the post wasn't a bit tongue-in-cheek. It was, ultimately, an attempt to take a remarkably prosaic activity and parse out its carbon aspects. After all, we're all increasingly accustomed to recognizing obvious, direct carbon emissions, but we're still wrapping our heads around the secondary and tertiary sources. This is another example of a recurring theme for me: we're good at cause and effect, not so good at cause...
.
.
.
...and effect. Exercises like this one help to reveal the less-obvious ways that our behaviors and choices impact the planet and our civilization.
I doubt that we'll have to go through this process with everything we eat, from now until the end of the world. As our societies become more conscious of the impact of greenhouse gases, and the need for very tight and careful controls on just how much carbon we dump into the air, we'll need to create mechanisms for carbon transparency. Be they labels, icons, color-codes, or arphid, we'll need to be able to see, at a glance, just how much of a hit our personal carbon budgets take with each purchase.
Will information alone make a difference? Probably not; after all, nutrition info panels on packaged foods didn't turn us all into health food consumers. But they will allow us more informed choices, with no appeals to not knowing the consequences of our actions.