Anticipating Pop!Tech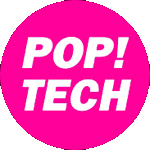 The speaker list at Pop!Tech includes more than a few very familiar faces, and that will undoubtedly be fun. But I'm really hoping to see some new names, and a few presentations on the list look to be definitely worth checking out.
• Roger Brent is the Director of the Molecular Sciences Institute, Rob "Carlson Curve" Carlson's old home. He's talking on biohacking and synthetic biology.
• Homaru Cantu is a hacker-chef, and this line from his bio just tickles me: Scientific elements such as liquid nitrogen and helium and devices such as a centrifuge and a hand-held ion particle gun make regular appearances in the Moto kitchen. I want my KitchenAid Ion Particle Gun!
• Marie-Helene Carleton is a documentary filmmaker, along with her partner Michel Garen. In 2003, as they were finishing a documentary about the looting of archaeological sites in Iraq, Garen was kidnapped. Carleton worked aggressively to bring his release.
• Hasan Elahi is a professor at Rutgers specializing in understanding the technologies of media, surveillance, and society. I'm definitely hoping to get a chance to talk participatory panopticon with him...
• Ayaan Hirsi Ali is a Somalia-born Dutch feminist, activist and politician. She's best known as the producer behind the film Submission, a documentary critical of the treatment of women in Islam; the film led to the assassination of its director, Theo van Gogh. She's about to move to the US to join (of all places) the right wing think tank American Enterprise Institute.
• Will Wright, creator of a few video games. Have you heard of SimCity and the Sims? Yeah, that Will Wright. His soon-to-be-released game Spore threatens to bring down the collapse of the US innovation economy by forcing technocreative types to stay at home for days or weeks on end building new universes and sharing them online.