Stephen Hawking, Global Warming, and Moving Out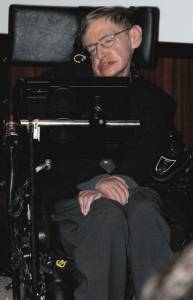 Last week, at a talk in Hong Kong, Stephen Hawking made what struck me at the time as being such a reasonable and obvious observation that I didn't think it needed commentary:
''It is important for the human race to spread out into space for the survival of the species,'' Hawking said. ''Life on Earth is at the ever-increasing risk of being wiped out by a disaster, such as sudden global warming, nuclear war, a genetically engineered virus or other dangers we have not yet thought of.''
To my surprise, Hawking's comments have been taken by otherwise intelligent people to mean that Hawking believes that the Earth is, or should be, "disposable," and that moving into space would be a way to escape global warming rather than mitigate or reverse it.
I'm 99% certain that this is not what Hawking meant (I can't find a transcript of the speech, so I'll leave that remaining fraction of a possibility open for now). It's pretty clear to me that what Hawking is talking about instead is the fragility of the planet, and the recognition that, for human civilization to survive over the long run, we can't keep ourselves limited to a single home. As Hawking suggests, we face a multitude of existential risks, and the best efforts to eliminate one won't come close to eliminating them all. Even if we manage to avoid a "tipping point" threshold for global warming, for example, we would still face threats from pandemic disease, nuclear war, or the classic asteroid impact.
In the face of such risks, the wise approach is to do what we can to prevent the problems from arising, as well as to do what we can to make certain we can recover if the problem happens too swiftly, too aggressively, or too unexpectedly to be countered. In short, to borrow from the familiar realm of computer tech support, we need to perform both planetary maintenance and civilization backups. Programs and projects to head off global warming, to shift incoming asteroids so that they miss Earth, to improve global health and development, and so forth -- the kinds of good, incredibly important efforts described every day at places like Gristmill, Treehugger, and WorldChanging -- exemplify what I mean by planetary maintenance; looking to a future where humans live on more than one world, what Hawking is talking about, exemplifies what I mean by civilization backups.
I've talked about other kinds of civilization backups before, starting with Norwegian seed archive vaults to muse about information access in a post-disaster world. These are massive projects, and could take decades to complete, but letting us rebuild after planetary-scale disasters. Off-Earth colonies are just another variation -- not because they'd let us leave Earth behind, but because they'd help Earth recover.
But backups are not substitutes for maintenance. Dealing with disasters after the fact is always far more costly, time-consuming and frustrating -- and, on the scale we're talking about, life-threatening -- than performing regular maintenance. Maintenance projects (fighting global warming, eliminating global poverty, eradication of pandemic diseases) reduce our need to use backups; backup projects are our last hope when maintenance fails.
Hawking's comments weren't calling on us to abandon efforts to keep the Earth healthy, or to plan to abandon the Earth, period. They were a reminder that sometimes maintenance fails, and that if human civilization is worth keeping around, we need to think big.